For those of you contacting me about the pizza dough recipe, there are two sites that I go to for some yummy recipes. I used PW's recipe from
here
. But I also go to
this
site that has great recipes including one for pizza dough that I'm trying next.
We have had some very nice weather lately. The girls had an opportunity to walk around in the rain..until the umbrella broke.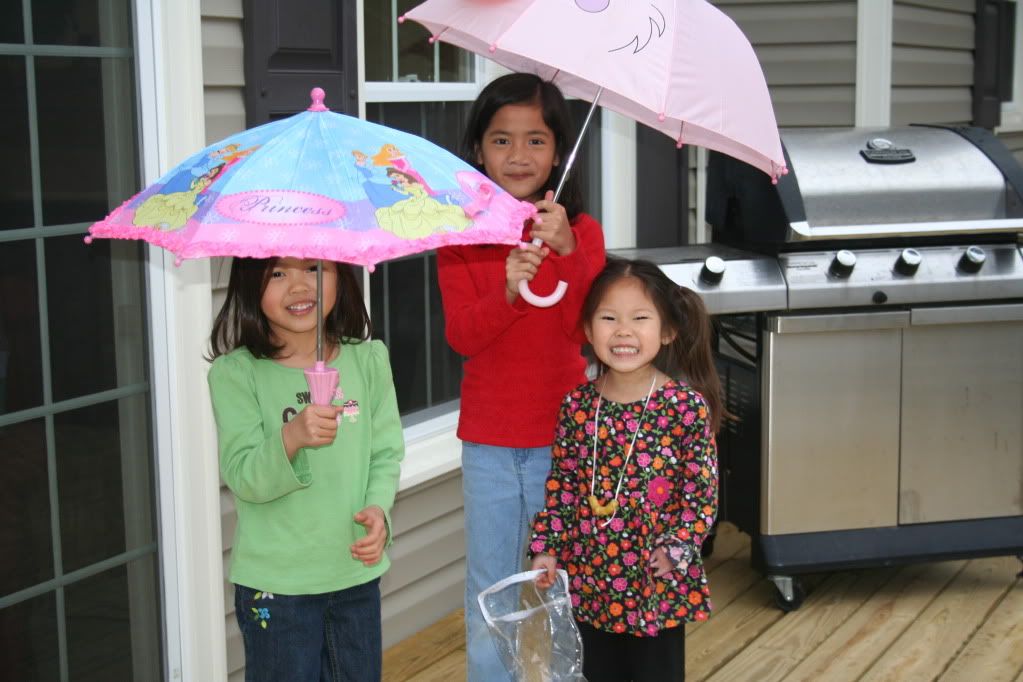 Moxie took a trip to the vet to get fixed. Poor thing. The anesthesia took her out, but once that wore off, nothing was holding her back. Try keeping a 62 pound puppy calm. It doesn't happen.
Since the weather was so nice, Jack decided to get his paint ball gun out. He was not allowed to shoot the girls, the cars, the house, or Moxie (although she did eat the paint balls), so he settled for trees, rocks, and the swing set.
Joy decided to wear one glove all day. Why one? Maybe she couldn't keep the left-handed one up on her little hand? Still it was cute. So was her chocolate ice-cream-covered mouth and hair that had not been brushed since the day before. I never got around to taking care of Joy. She always seems to be the ragamuffin around here. Probably because I never seem to get around to taking care of her.
Now, onto this morning's incident. Not a good way to start the day. All 3 girls wanted this cereal. Can you believe it? They tasted it out of the box first. Ivy asked, and she never, ever, never eats cereal. She just does not like it. So, Eva followed suit, then Joy. I told all 3 of them, "If you asked for it, you have to eat it all." They all replied with a joyous, "I know!"
Within 10 minutes, 2 of the girls were not happy. One asked for sugar on an already sweetened cereal. One asked if she could be done. I was the tough mom. "You asked for it. What did I say when I gave it to you?" So, they slowly force fed themselves until they finished. Ivy sat for 15 minutes in tears over that cereal, not wanting to eat it. Eva did not cry, but she will not ask for it again. Joy...well, she is Joy. She gobbled it up with a smile on her face and never complained once!