Well, that would be a 3-girl band. As I type they are having fun, playing their parts as Ivy calls out their names. It makes her piano practice more fun.
Joy once thought (because of her hand) she could only play the drums.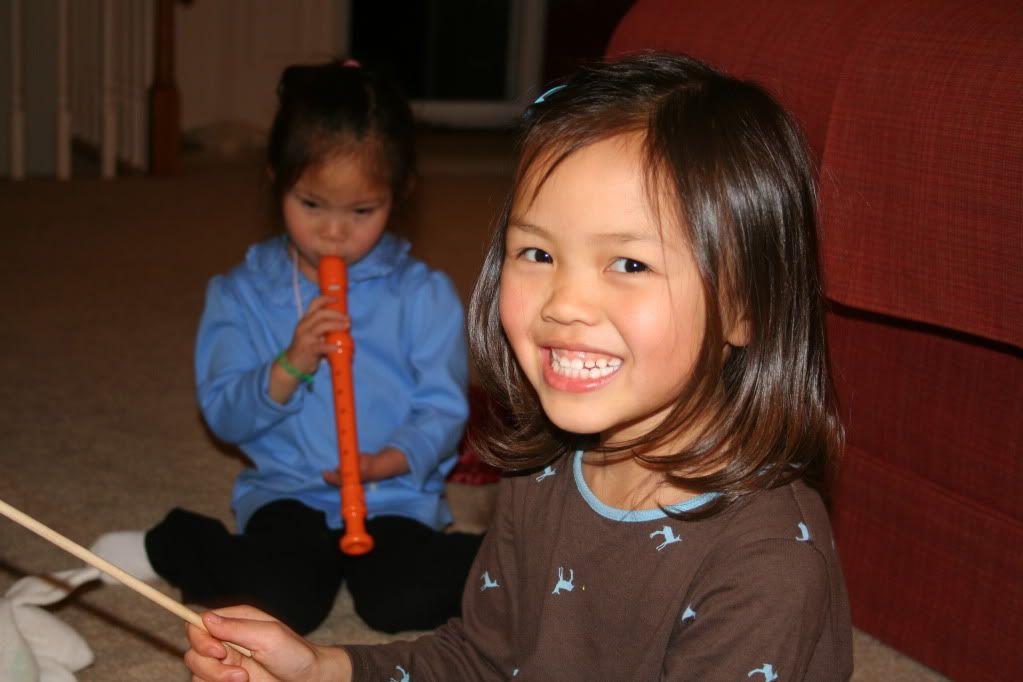 Eva's smile brightens up any day.
For some reason, we girls are not in front of the TV watching the Superbowl. When the girls walked into the room to see what Dad was watching, they turned back around and headed for their music.
Onto another subject...grief. Eva and Joy did not experience much grief when we adopted them. Just during the first few days together with each girl did we see some heartaches. But, since we've been home, they both are just lovin' life. Eva and Joy were only a year when we met, so I know that makes a difference. When we decided to adopt Ivy, I read all I could about grief and attachment. I read the good and bad of what I should expect from Ivy. Other than the first couple of days of tears and crying, Ivy has not shown much grief of losing her Chinese life. The first few days home were uncertain days for her, and there were tears that first week, too, but generally speaking, she was settling right in and happy.
Last week, I decided to play a children's CD of Chinese songs...songs that Ivy was familiar with and understood.
Immediately, I recognized the widening eyes darting back and forth to hold back the tears. I am sure it brought back a flood of memories and feelings. So, I picked her up and asked if she was sad. She nodded a big yes when I asked her if she missed China? How could you not after living there for those 7 years? It was familiar to her...it was all she knew...it was home. I told her it was okay to cry and to miss China. After wiping away the tears, she went back to playing. This was the first time in almost a year that she has shown any signs of grief. Ivy may be the exception to the norm in the adoption world. She is a very happy, well-adjusted child. She knows she is loved, and she feels secure.